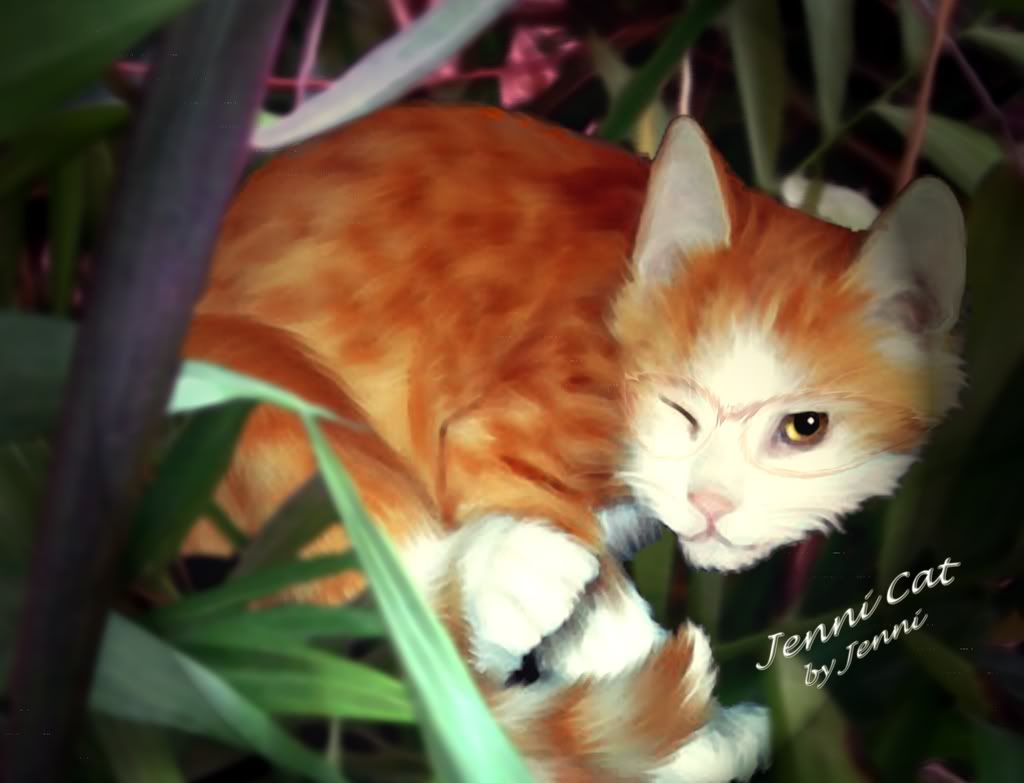 The JenniCat is yet another curiousity of the world of Questkid. This cat lives near small towns and villages-- as cities are too crowded for it, and the risk of becoming a pet is to great for the JenniCat. Many children find the cat amusing, while most adults find it annoying.
Description
The JenniCat has an unnaturally dreamy or curious expression, probably due to the fact that the characteristic markings around the eyes that make it seem as if the Jenni cat is wearing glasses. Its short but surprisingly glossy fur comes in many natural colors: tan, brown, black, red, yellow, green, blue, and white--though the blue ones are typically rare.
Abilities
The JenniCat is often suspected of understanding the human language and able to read--has been seen reading signs and sneaking into home and libraries to read books. Many suspect that its dreamy expression is due to the cat's constant puzzlings over the concept of "there" and it often reads up this information in the Juvenile Fiction area of the library.
Behavior
Known to prowl around bakeries, the JenniCat is a very problematic pest for sweet shops and bakeries. It is quite common to see a JenniCat looking purposefully pitiful to gain sweets from unsuspecting villagers. The JenniCat enjoys fruit, baked goods, and chocolate.
Because the JenniCat is a mischevious creature, it sometimes can be found sneaking into chicken coops is as a pasttime. However, it enjoys chasing the chickens around rather than eating them
Yowling to the moon is a common behavior--do not panic if you hear a JenniCat screeching in the middle of the night. It is not ill, but it is a little tone deaf and has difficulty telling the difference between a beautiful song and its own shrill wail. This yowl is typically very loud and will keep many houses awake into the late night. Do not insult its singing either--for any offense is considered a threat. When threatened, the JenniCat kicks, yowls, scratches, bites, and whips the offenders' arms with its tail. Many an adult have learned this the hard way by either throwing shoes to make it stop, or trying to dislodge it from the bakery's steps.
No Jenni cats have ever been tamed or taken as a pet. However, they will allow children to pet them in exchange for sweets. This ruse if often devilishly clever--for few individuals can resist the large babyish (often called "Puss-in-boots" eyes) that the JenniCat uses for candy.
A special thanks to Jekka for providing details!